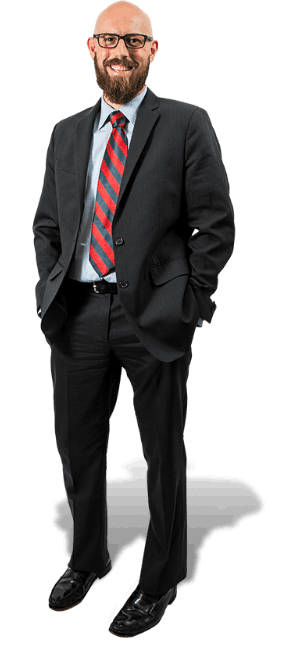 Attorney Bio
J. Jeffrey Watson
Attorney
While many attorneys, long into their careers, begin to become removed from the people they represent and consider it a job, I consider it my sole passion and privilege to fight injustices every day.
Jeff Watson advocates for clients in workers' compensation, car accident, and premises liability cases, among other litigation matters. He is proud to stand up for those injured, focusing his practice on achieving great outcomes that result in client satisfaction. In 2018, he became certified as a specialist in the practice of workers' compensation law by the Pennsylvania Bar Association's Workers' Compensation Law Section as authorized by the Pennsylvania Supreme Court.
Jeff graduated from the University of Pittsburgh and earned his J.D. from Widener University School of Law in Harrisburg, PA. He previously lectured and published works on Pennsylvania workers' compensation law.
Before becoming a part of the team here at Handler, Henning & Rosenberg LLC, Jeff was a shareholder at a defense firm with 500+ attorneys. His practice there was dedicated to litigation and he was also an integral member of the Harrisburg Workers' Compensation practice group recognized by U.S. News & World Report. This background makes Jeff extremely familiar with the inner workings of the insurance industry, further equipping him to assist his clients at Handler, Henning & Rosenberg LLC.
He was a founding partner in Hager & Watson, a Pittsburgh personal injury law firm. Now, Jeff serves as a key team member of Handler, Henning & Rosenberg LLC, providing dedicated and aggressive counsel to injury victims throughout Pennsylvania.
Bar Admissions
Pennsylvania
U.S. District Court for the Western District of Pennsylvania
Memberships
Pennsylvania Bar Association
Dauphin County Bar Association
American Association of Justice
Pennsylvania Association for Justice
Published Works
Speaking Engagements
Handling the Workers' Compensation Claim In Pennsylvania – Presenter
Social Media and Workers' Compensation Update – Presenter
PA Workers' Comp: The Written Job Offer – Presenter
Interplay Among the PA Workers' Comp Act, ADA and FMLA – Presenter
Workers' Comp and The Employer – Presenter
PA Workers Compensation Forms – Presenter
Education
Widener University, J.D., 2003
University of Pittsburgh, B.A., 1998
Life Outside the Courtroom
I live in Harrisburg with my wife and children, where I remain an active member in the community by regularly volunteering my time to help several youth organizations. Some of my most rewarding work has been at the MDA Lock-Up fundraiser to benefit the Muscular Dystrophy Association.
What
J. Jeffrey Watson

's Clients Have to Say
I was in a car accident, my first, and have a neck injury. I had never been through the complicated process that kicks in after such an event. I was in pain, unsure of what to do. My husband contacted the firm and it was wonderful. Any questions or problems were taken care of. My husband was able to take care of me instead of navigating billing issues and dealing with the insurance companies involved. My settlement was handled quickly and gave me the best settlement available. It made things much easier for us and I would highly recommend Handler, Henning & Rosenberg.

- Betsy R.

I was involved in a peculiar vehicular accident and on top of being injured, was getting the runaround and denial of benefits and coverage from the insurance companies. This forced me to look for representation and I was referred to Handler, Henning & Rosenberg by another attorney. I was given great care and after only one meeting, I could stop worrying about the mounting medical bills and start focusing on my recovery. The whole staff was knowledgeable and the entire experience with them was great.

- Ed L.

I was in a car accident and suffered injuries that required physical therapy.I knew early into it that I would need to seek legal representation.I had never gone through this before so I wasn't sure who to call.I saw advertisements on television for Handler Henning and Rosenberg.I decided to call them.I had many Doctor appointments over the course of a year and did not return to work during that time.What I came to find about this law firm,was that they really did care about my well being.They are kind and compassionate but also aggressive about fighting for your rights.Matthew Rosenberg and Jennifer Carl were an amazing team to have on my side.They gave me so much peace of mind.I am now healthy and back to work.If I would need a law firm in the future,I would not hesitate to call Handler, Henning & Rosenberg.Thank you for getting me back on my feet again!

- Tammie Seiders