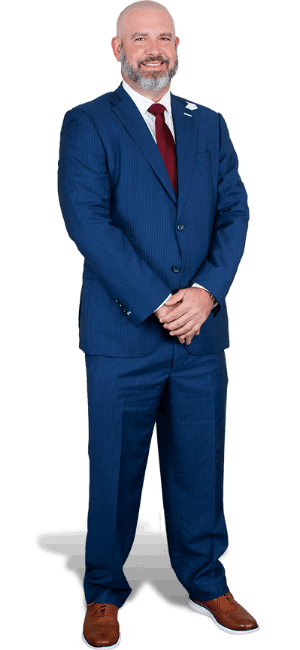 Attorney Bio
Adam G. Reedy
Attorney
My professional purpose is to help people who have been injured, either at work or through the carelessness of another driver. I strive to help families of injured workers through the tumultuous period of recovery, making sure they have the resources they need to continue to provide for their families.
As a Pennsylvania personal injury attorney, Adam Reedy handles all aspects of the civil litigation process efficiently and effectively for his clients. He is passionate about helping those who have been injured while on the job, fighting for the fair workers' compensation benefits they are owed in all cases.
In addition, Adam represents individuals who have sustained serious injuries, whether in car accidents or due to a dangerous premises, standing up for their rights in the face of big insurance companies. He specifically focuses on workers' compensation, auto crash, motorcycle accidents, truck accidents, and pedestrian incidents.
As a local native of Harrisburg, PA, Adam understands the unique needs of clients in this community. He graduated from Dickinson College and the Widener University School of Law in Harrisburg, furthering his involvement in the local region. Adam also represents his clients' interests before the Pennsylvania State Legislators by serving on the Board of Governors for the Pennsylvania Association of Justice.
Through peer recognition, Adam has been honored as a Select Lawyer in Workers' Compensation Law (2014 and 2015), which is published each year by Susquehanna Style Magazine. In 2015, Adam was invited to participate in the Top Injured Workers' Attorneys Program by the Board of Directors of the Workers' Injury Law & Advocacy Group. This program recognizes the top lawyers representing injured workers across the nation. Adam has also been asked to lecture on behalf of the Pennsylvania Bar Institute.
Bar Admission
Pennsylvania, 2007
U.S. District Court for the Middle District of Pennsylvania, 2008
U.S District Court for the Eastern District of Pennsylvania
U.S. Court of Appeals, Third Circuit
Memberships
Pennsylvania Bar Association
Dauphin County Bar Association
American Bar Association
Pennsylvania Association for Justice – Board member for the future leaders section, middle district
Education
Widener University, J.D., 2007
Dickinson College, B.A., 2001
Life Outside the Courtroom
In my time outside the office, I enjoy playing with my two sons – chasing them around the yard and playing ball. I also enjoy making use of my culinary skills by hosting dinner parties and making dinner for my family. My hobbies include serious dedications to both golf and baseball.
What
Adam G. Reedy

's Clients Have to Say
I had the wonderful experience with Adam Reedy. I got hurt at work and they denied me, so Adam helped me get the money I deserve and answered any questions I had via email or phone call. I recommend him to anyone and I hope I never have to go through this again, but if I do I'm using him again. Thank you Adam!

- S. Beasley

I was involved in a peculiar vehicular accident and on top of being injured, was getting the runaround and denial of benefits and coverage from the insurance companies. This forced me to look for representation and I was referred to Handler, Henning & Rosenberg by another attorney. I was given great care and after only one meeting, I could stop worrying about the mounting medical bills and start focusing on my recovery. The whole staff was knowledgeable and the entire experience with them was great.

- Ed L.

I was in a car accident and suffered injuries that required physical therapy.I knew early into it that I would need to seek legal representation.I had never gone through this before so I wasn't sure who to call.I saw advertisements on television for Handler Henning and Rosenberg.I decided to call them.I had many Doctor appointments over the course of a year and did not return to work during that time.What I came to find about this law firm,was that they really did care about my well being.They are kind and compassionate but also aggressive about fighting for your rights.Matthew Rosenberg and Jennifer Carl were an amazing team to have on my side.They gave me so much peace of mind.I am now healthy and back to work.If I would need a law firm in the future,I would not hesitate to call Handler, Henning & Rosenberg.Thank you for getting me back on my feet again!

- Tammie S.